COMPACT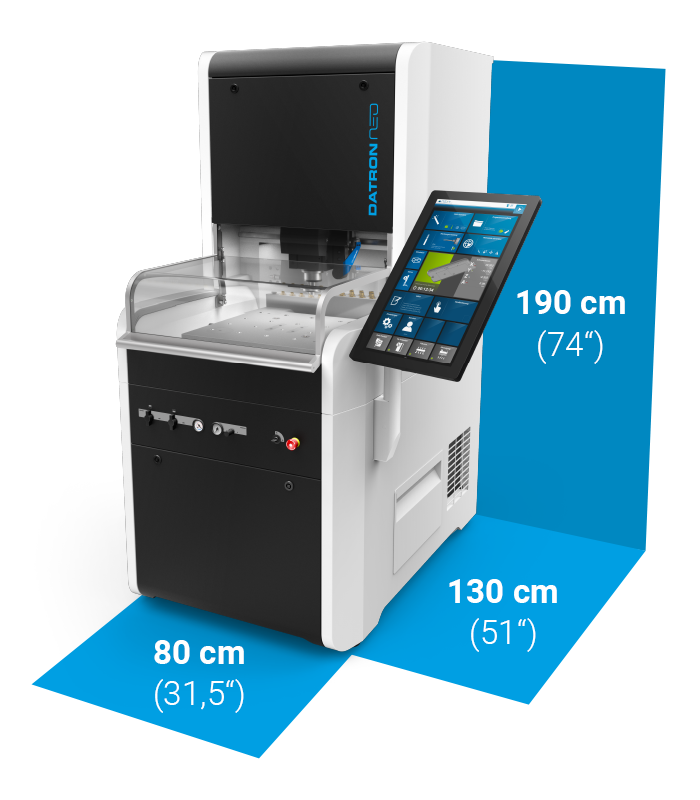 SMALL FOOTPRINT: HUGE R.O.I.
DATRON neo requires an installation area of just one square meter and is therefore an extremely space-saving production system. With dimensions of 80cm / 130cm / 190cm (32" x 51" x 74") this machine fits through a standard door.
With DATRON neo, milling is easy and efficient. Milling strategies like pocketing, chamfering, thread milling and creating 3D forms can all be performed quickly using this 3-axis compact milling machine. Prototypes made of composites, engineered plastics, metal or wood are produced quickly and with a consistently high quality.
Our Customer Care and Service team provides world-class support – from installation and training through maintenance and consultation ... for many years to come.
OUR SMALLEST MACHINE. YOUR BIGGEST ADVANTAGE.
DATRON neo is a compact easy-to-use 3-axis milling machine that has it all. Flexibility, dynamics, performance and quality – all housed in the smallest possible space.
DATRON neo is extremely space saving. With its dimensions of 80cm/130cm/190cm (32" x 51" x 74"), it fits through a standard door and uses only 1 square meter of your valuable production space.
The machine weighs approximately 700 kg (1,543 lbs). The aluminium table on a machine frame made with a solid polymer concrete casting ensures stable and low-vibration machining. Using DATRON neo you achieve workpieces with consistent surfaces and precise milling details.
COOLING SYSTEM & MICROJET
Space saving is pushed to the maximum with DATRON neo. Critical components like the Cooling system and the Microjet, which would usually take up extra space outside of the machine footprint, are conveniently stored inside the machine chassis.
The Cooling system is used to maintain lower operating temperatures for the high-speed spindle. This extends the life of the spindle bearings and also maximizes accuracy by reducing thermal growth.
The Microjet is a high-pressure, but low-volume, cooling system that allows for misting of various coolings such as ethanol, oil, water-soluble coolings and others.