Small-volume manufacturers and startups: Get Started!
FLEXIBILITY FOR SHORT RUNS
"Good ideas don't always transform into real parts overnight, but with neo they're here in a fraction of the time."
The DATRON neo provides high dynamics in machining aluminium – especially when a high surface finish is required. In industries with large and small batch production i.e. the electronics industry, bigger conventional machines are only cost effective when they are cranking out serial production parts in high-volume runs. DATRON neo is an ideal compliment to that equipment, because it adds the flexibility to machine prototypes or short runs of small parts, leaving those larger machines to do what they do best.
A further plus of the DATRON neo is its comprehensive capability to tackle a range of milling strategies without the need for post processing. From pocketing and chamfering to drilling and thread milling, DATRON neo gives you full control.
For this smartphone case (below), the DATRON neo equipped with a vacuum chuck met the following challenges:
Dynamic milling of solid stock
Intricate detail and complex structures
Exceptional surface quality
Precise thin-walled geometries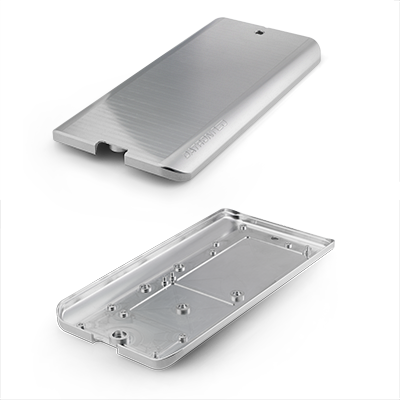 Project Details
Material
Aluminium

Size
142 mm x 70 mm x 9 mm

Time
180 Minutes (both sides on a DATRON neo+)
Set-up and machining times
Very short set-up and machining times due to the perfect matching of Industrial technology, software, tools and milling strategy, everything from one single source: DATRON.