Design Model
TURN YOUR IDEAS INTO REALITY
"DATRON neo produces mirror-like edge finishes and detailed engraving … even on rounded surfaces!"
The machining of non-ferrous metals is one of the key strengths of the DATRON neo. After the workpiece has been machined from solid stock, DATRON neo produces free-form structures with a consistent surface finish. Using small tools, the 3-axis milling machine produces even the most intricate engraving details with superb quality.
DATRON neo equipped with a jaw chuck shows its dynamic capability with this complex design model of a brass wrist watch (below):
Precision machining of brass
Intricate surface geometries
Realistic representation of the design idea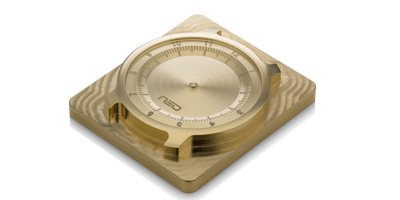 Project Details
Material
Brass

Size
38.5 mm x 33.5 mm x 5.9 mm

Time
50 Minutes (on a DATRON neo+)
Set-up and machining times
Very short set-up and machining times due to the perfect matching of Industrial technology, software, tools and milling strategy, everything from one single source: DATRON.